Phoenix Translation and Interpretation Services
We know the importance of providing our clients high-quality, reliable translation and interpreting language services. Tens of thousands of corporate, government and private clients have trusted us to deliver their message accurately and quickly to clients throughout the Phoenix area for over 25 years. Our team of language professionals has experience and a proven track record of success in every industry and language. Whether you need a translation of your company website into Chinese and French, a deposition interpreted in Spanish or anything in between, we have all of your language needs covered!
In addition to our translation services, we provide consecutive and simultaneous interpreters for corporate and government conferences, hospitals, medical facilities, nursing homes, courtrooms, law enforcement and social service agencies. We also offer telephone interpreting, as well as American Sign Language (ASL) interpreters onsite or through video remote interpreting (VRI) 24 hours a day, 7 days a week.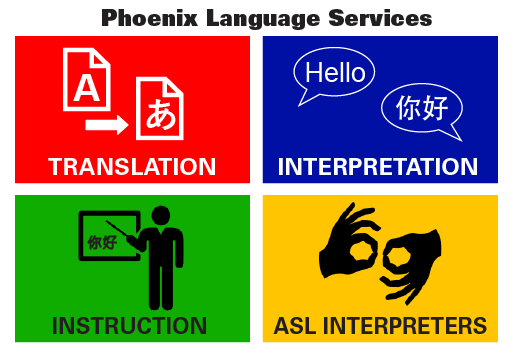 • Interpretation: simultaneous or consecutive conference interpreters, telephone interpreting, video remote interpreting, American Sign Language, court & face-to-face
• Certified translations: Business communications, company websites, contracts, personal documents, such as birth certificates and academic transcripts, software localization, product packaging and more.
• Foreign language and English (ESL) instruction: onsite corporate classes and virtual instruction in nearly any language, including ASL.
Most requested languages in the Phoenix, Arizona area: Spanish, Vietnamese, Chinese, Navajo, Arabic, French and American Sign Language
We serve all of the greater Phoenix, Arizona region: Scottsdale, Tempe, Mesa, Gilbert, Tuscon and Flagstaff
Give us a call to learn more about our translation and interpreting services or email phoenix@indytranslations.com.
844-503-1236