Professional Website Translation & Localization

Only 5% of the world speaks English as a first language. The fastest and most economical way of reaching more prospective clients and boosting profits is to have your company's website and marketing materials professionally into one or more languages. Millions of potential buyers are online right now. Your business, whether big or small, can easily reach these customers anywhere in the world... but only if you speak their language. The number of languages available on your site directly "translates" into more potential buyers. Don't ruin your first contact with a potential client by providing machine generated content that may be incomprehensible to the user or even be wrong or offensive.
Over a hundred of companies have trusted us to translation their websites, including Honeywell, Formica, American Red Cross and Allison Transmission. You should, too!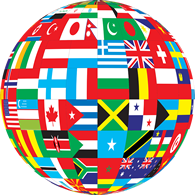 Our team of professional translators, graphic artists, localizers and web designers will completely replicate, localize and translate your website in any language. This process not only involves text translation, but also localization of many elements of the site, depending on the target language and country. This may include such changes as local telephone numbers, addresses, metric and currency conversions, culturally-appropriate images and icons, and the links to sites relevant to the given location and language. Let us help you bring the world to your website! Serving all industries: medical and health care, insurance, legal, automotive, agriculture, real estate, educational, telecommunications, computer and software.
Give us a call to learn more about our website localization services.
SAVE 25% TODAY on any Spanish or French website
1.800.695.8772