Meet Our Management Team!
Kelly Hocker

CEO/Managing Partner
khocker@indytranslations.com
A managing partner and co-founder of the company, Kelly earned degrees from Indiana Wesleyan University and Indiana University. Kelly devotes his time primarily to overseeing the daily operations of Indy Translations, but is also active in the company's financial operations and marketing initiatives. Kelly brings with him a diverse background in business, including marketing, project management and accounting which assures that the company runs smoothly and customers receive the highest degree of service.
---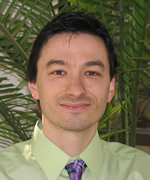 Bill Zart

Director of New Business & Translations/Managing Partner
bzart@indytranslations.com
Bill is a linguist and translator who received his B.A. in Russian, Spanish and French and his M.A. in Russian and Spanish linguistics from Purdue University. He also studied at the Pushkin Institute in Moscow. Earlier on in his career, he taught Russian, Spanish, French, Portuguese, American Sign Language and English as a Second Language, working at Purdue University, Marian College, LTC, ELS, Ivy Tech, IUPUI and IUPUC. Bill is the co-founder of Indy Translations. He is a member of the American Translators Association, the Midwest Association of Translators and Interpreters, and the American Council of Teachers of Russian.
---
Gianni DiMizio
Education Director of the Indy Language Center
gdimizio@indylanguagecenter.com

Giancarlo "Gianni" has been the new Education Director of the Indy Language Center since February 2018 and is responsible for daily management of all aspects of our Carmel, Indiana location, and works with nationwide corporate clients. An Italian Native, he brings with him over a decade of teaching experience and managerial skills. He teaches and speaks Italian, Spanish and some French.
---
Annamaria Proksch

Project Manager/St. Louis area Office Manager
aproksch@indytranslations.com
Anna Proksch joined our team in September 2005 as a full-time project manager. A native of Varese, Italy, she started her studies at the University of Milan. After moving to New York in August 1999, she finished her studies at SUNY Geneseo and graduated with a major in French and a degree in Foreign Languages and Literature. Her knowledge of Italian and French combined with her outstanding communication and organization skills make her a perfect fit for Indy Translations. She works from our St. Louis, Missouri location.
---
Jonathon Henley

Project Manager/South Florida Office Manager
jhenley@indytranslations.com
Jonathon Henley joined our team in August 2006 as a full-time project manager. He is from Indianapolis and a graduate of Indiana University Bloomington, having earned a Bachelor's Degree in both German and International Studies. Prior to graduating IU, Jonathon studied for an academic year abroad from 2004-2005 at the University of Freiburg in Germany. In the summer of 2004, he also interned with Indy Translations, assisting with translations and the teaching of an immersion class, developing marketing and promotion skills, and using extensive research with database building for client referrals at our offices in Indianapolis and North palm Beach. Since May 2014, he had headed our South Florida operations.
---
Plus the hard work of our project managers, translators, reviewers, editors, graphic designers and fantastic support staff at all of our locations!