Educational Interpreter Training Course
This introductory course has been especially designed by professional interpreters to train bilingual educational staff in the basics of interpreting within an academic setting. Effective communication is even more crucial nowadays with different school systems operating this fall in a variety of in-person and hybrid teaching models which will require communicating frequently with parents who either do not speak English or do not speak it well. And with school budgets tighter than ever now, many school districts are using their own internal bilingual staff to serve as interpreters whenever possible. However, many of these individuals have never done any interpreting before and frequently are unaware of the potential pitfalls and legal implications of providing such interpreting.
In this course we will address all of these concerns and prepare your school's bilingual staff to confidently work in a variety of educational situations, such as parent-teacher conferences, enrolling new students whose parents do not speak English well, or other common situations in which communication with students and their families will be paramount.
This 20-hour course will be taught live via Zoom by a minimum of three experienced interpreters over a two-week period. Students may interact with the instructors at any time during these live classes. There will be time provided at the end of each class for questions as well.
These courses are also available and customizable for individual school districts. Email us for details — info@indylanguagecenter.com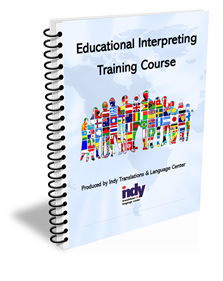 Course Length: 20 hours
Costs: $375/student (10-student minimum)
Language: Instruction and materials available in English or Spanish
Materials: Downloadable course manual and exercises (hardcopies available for purchase)
Certificate: Yes, all students who satisfactorily complete the course will receive a certificate
Dates: English version TBA | Spanish version TBA
1.800.695.8772