Language Services in West Palm Beach & South Florida
Indy Translations serves all of Palm Beach County as well as the entire South Florida area from our offices located in North Palm Beach, Florida. Since 1997, we have been providing unparalleled quality language services to clients of all sizes through the state of Florida and nationwide.
We are a full-service language solutions provider working in all subject areas, languages and parts of the state. Here's a look at some of our core services.
• Certified document translation services in all subjects and languages
• Personal documents starting at $50 (birth certificates, marriage certificates, etc.)
• Interpretation services (in-person, telephone, VRI, legal, medical and court interpretation)
• Public and private foreign language instruction, language immersion and online classes
• Audio/Video Services (foreign language voiceovers, subtitling and foreign voice talent)
• Multilingual document preparation, graphic artwork and desktop publishing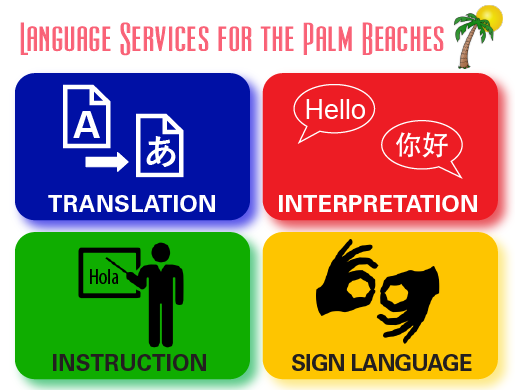 Foreign Language Instruction: We offer public, private and corporate language courses in the following languages: Spanish, French, Chinese, Brazilian Portuguese, Italian, Japanese, Korean, Haitian Creole, German, Russian and American Sign Language (ASL). Classes may be held at our offices or yours.
We provide language interpreters and translation services throughout Palm Beach County, from Jupiter and Palm Beach Gardens, to Riviera Beach and West Palm Beach, as well as Palm Beach Island, Royal Palm Beach, Riviera Beach, Boynton Beach, Delray Beach, Boca Raton and Wellington. You can find our offices on the map below.
Indy Translations and Indy Language Center
721 US Highway 1, Suite 221
North Palm Beach, FL 33408
561-969-3988