Chicago Interpretation and Translation Services
Indy Translations provides professional interpreting and translation services to the greater Chicago area, Northwest Indiana and nationwide. Companies and organizations have trusted us with all their language needs for over 25 years. Our comprehensive language services cover all industries, subjects and languages.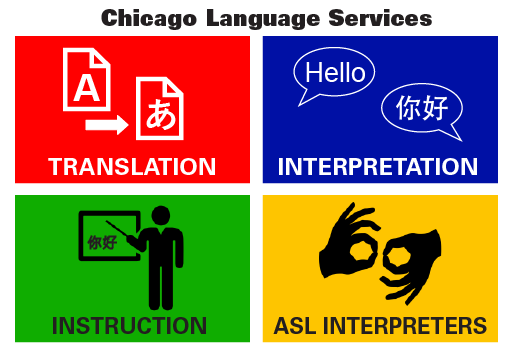 Our translation and interpretation services are offered in all of the world's major languages for any type of event: conferences, business meetings, court cases, immigration, depositions, teleconferencing, medical appointments, worker's compensation cases, arbitration, walking tours and much more. Our network of professional interpreters allows us to find the most qualified interpreters to match your specific business needs, whether you require an interpreter in the Chicago area or anywhere in the world. We also offer American Sign Language (ASL) interpreting in person or on demand with our video remote interpreting (VRI) services.
Most requested languages in the Chicago area... Spanish, French, Polish, Chinese, Cantonese, Portuguese, Italian, Japanese, Korean, Vietnamese, Macedonian, German and American Sign Language (ASL)
Serving all of Illinois and Northwest Indiana: Chicago, Rockford, Springfield, Aurora, Evanston, Champaign, Carbondale, Bloomington, Danville, Peoria, as well as Gary, Merrillville, Crown Point, Hammond and Valparaiso in Indiana
Give us a call to learn more about our certified translation and interpreting services.
1.800.695.8772